Notre Dame Cristo Rey High School (NDCR)
Address: 303 Haverhill Street, Lawrence, MA 01840
Telephone: (978) 689-8222
School Code: 221122
Website: www.ndcrhs.org
President: Sr. Maryalyce Gilfeather, SNDdeN, Ph.D
Principal: Dr. Anthony Zavagnin
Executive Director, Corporate Work Study Program: Deborah Shell
Dean of Students: Carlos Cedeño
College & Guidance Counselors: Jeannine Aucoin Kaatz; Amanda Colten
NDCR is located in the urban community of Lawrence, MA and provides students with a focused and goal-oriented learning environment with experience in a hands-on job training program. In addition to acquiring fundamental work skills, NDCR students complete high school and are well-prepared to pursue a college education. Each and every NDCR graduate has also received at least one acceptance to a four-year college. NDCR is a proven success story, one that provides many opportunities for our students to achieve their dreams.
Quality and Affordable Education
Notre Dame Cristo Rey High School offers these unique benefits:
Extended day and extended year education
1-to-14 teacher student ratio
1-on-1 math and reading instruction and tutoring offered
Affordable tuition for all families
100% federally funded free and/or reduced lunch program
Chaperoned trips for students to visit nearby colleges
NDCR is part of the
Cristo Rey Network
, a national network of high schools that provide quality, Catholic, college preparatory education to urban young people who live in communities with limited educational options. The majority of our students is of Latino descent, and the median family income is $31,000 (average family size is four). Cristo Rey schools utilize a longer school day and year, academic assistance, and counseling to prepare students with a broad range of academic abilities for college. All students at Cristo Rey Network schools participate in a work study program through which they finance a portion of their education, gain real world job experience, and grow in self-confidence.
Corporate Work Study Program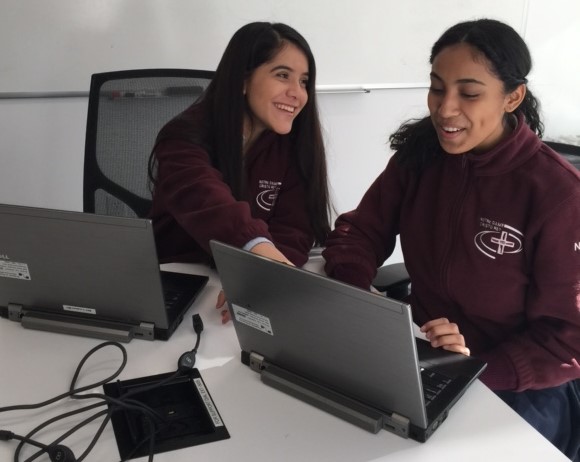 NDCR is the only nonprofit organization providing at-risk youth in the Lawrence area with a college preparatory education program that is combined with hands-on work experience. The
Corporate Work Study Program
is designed so that the school day and year are extended to compensate for the time students spend at work. Academically, students pursue a typical high school college preparatory curriculum with core subjects in mathematics, English, social studies, religion, computers and technology, biology, Spanish, chemistry, and physics. The academic program is continually assessed to ensure that students are challenged and well prepared for the demands of higher education.
Each year, students have internships at a variety of businesses and nonprofit organizations throughout the Merrimack Valley, Route 128/93 North Corridor, and Southern New Hampshire. The
Corporate Work Study Partners
provide services that range from legal, banking, health care, food and environmental industries to education and housing opportunities. Teams of students share a job on a rotating basis, allowing employers to receive needed services such as data entry, internet research, customer service, IT support, front desk reception, and other office work. NDCR also provides transportation to and from the job site to ensure that the students arrive on time and there is consistent attendance at the job placements. As a result of working in a business environment, where student employees are often mentored by their employer/co-worker, students acquire overall job experience, marketable skills and begin to build a professional resume. They also develop a network of business contacts, have exposure to a variety of career opportunities, and develop a strong work ethic.
College Readiness
NDCR begins meeting with students in their freshman year to discuss and plan for their college experience. In addition to group class-wide meetings, we also facilitate periodic small group workshops aimed at covering various topics related to the college planning process. In addition, we hold several meetings for parents beginning with a brief introductory meeting for freshmen and their families to help understand the importance of college for their child. Specific college readiness activities for NDCR students in grades 9-12 include the following:
Students attend college fairs and workshops with college representatives on-site at NDCR;
Students take day trips with NDCR staff to visit college campuses;
Students' families attend meetings (always translated into Spanish) to learn about college opportunities and costs;
Students and families attend workshops which include college representative and guest speakers at local colleges;
Students take the PSAT, ACT/SAT test in preparation for college entrance exams;
NDCR staff assists students in identifying college scholarships, grants, and financial aid resources;
NDCR staff assists students in preparing college application(s), financial aid, and scholarship forms; and
Financial aid nights are held in the winter with area financial aid experts to assist families with completing their FAFSA's.
Accreditation
NDCR is fully accredited member of
New England Association of Schools and Colleges
(NEASC). NDCR employs around 20 teachers, most full-time and some part-time teaching faculty. 33% of our teachers possess an advanced degree. All are licensed by the Massachusetts Department of Education. 21% of NDCR's teaching faculty is Hispanic and bilingual.
NDCR Graduates
Possess solid academic preparation to succeed in college
Possess a global perspective
Embrace the goodness of God
Participate in community service
Retain an educational orientation to life
Graduation Requirements (Class of 2014 +)
All students must enroll in 7 units per year for four years. Full year courses earn 1.0 credit and half year courses earn 0.5 credit. Students must have 30 credits to graduate.
Religion - 4 credits
Spanish - 3 credits
English - 4 credits
Math - 4 credits
Writing - 1 credit
Science - 4 credits
Social Studies - 3 credits
Computer Applications - 1 credit
Electives - 2 credits
Corporate Work Study Program - 4 credits
(Religion credits for grade 9 listed above is also a world history/world religion course.)
Grading
The grading scale is as follows:
| | | | | |
| --- | --- | --- | --- | --- |
| Grade | Numeric Value | College Prep | Honors | AP |
| A+ | 97-100 | 4.3 | 4.8 | 5.3 |
| A | 94-96 | 4.0 | 4.5 | 5.0 |
| A- | 90-93 | 3.7 | 4.2 | 4.7 |
| B+ | 87-89 | 3.3 | 3.8 | 4.3 |
| B | 84-86 | 3.0 | 3.5 | 4.0 |
| B- | 80-83 | 2.7 | 3.2 | 3.7 |
| C+ | 77-79 | 2.3 | 2.8 | 3.3 |
| C | 74-76 | 2.0 | 2.5 | 3.0 |
| C- | 70-73 | 1.7 | 2.2 | 2.7 |
| D+ | 67-69 | 1.3 | 1.8 | 2.3 |
| D | 65-66 | 1.0 | 1.5 | 2.0 |
| D- | 60-63 | .7 | 1.2 | 1.7 |
| F | 0-59 | 0.0 | 0.0 | 0.0 |
AP and Honors Offerings Senior Year
AP Spanish Literature
AP Calculus
AP Environmental Science
Honors Physics
Honors English
Junior Year
AP Spanish Language
Honors Chemistry
Honors Pre-Calculus
Calendar
The school year is comprised of two semesters, each lasting 18 weeks. The school day, beginning at 7:30 A.M. and ending at 3:30 P.M., has seven 56 minute periods which meet four times a week.
Student Body
NDCR currently has 249 students enrolled:
Seniors - Class of 2017: 68 students
Juniors - Class of 2018: 46 students
Sophomores - Class of 2019: 56 students
Freshmen - Class of 2020: 78 students
Race/Ethnicity
91% Hispanic/Latino
2.5% African-American
2% Caucasian
6.5% Other
Male/Female Ratio
Student/Family Data
Average family income is $35,700
Median family income is $31,000
Average family size is four
100% of students are eligible for free or reduced breakfast and lunch
75% of students will be the first generation to attend college in their families
Class Rank
NDCR does not rank students. By policy, NDCR does not employ any ranking system.
College Matriculation
Class of 2016: 100% of students were accepted to four-year colleges and universities
66% of students attended four-year colleges
34% of students attended two-year colleges
Alumni of NDCR have matriculated to these colleges and universities:
Anna Maria College
Barry University
Bay State College
Berkeley College of NYC
Bloomfield College
Boston College
Boston University
Bridgewater State College
Bunker Hill Community College
College of the Holy Cross
Emmanuel College
Emory University
Fairfield University
Fisher College
Framingham State College
Georgetown University
Johnson & Wales University
Lesley University
Massachusetts College of Art and Design
Massachusetts College of Liberal Arts
Massachusetts College of Pharmacy & Health Sciences
Merrimack College
Middlesex Community College
Middlesex Community College - Lowell Campus
Northeastern University1Northern Essex Community College
Northern Essex Community College - Lawrence Campus
Post University
Providence College
Regis College
Saint Joseph's University
Saint Michaels College
Saint Peter's College
Salem State University
Salve Regina University
Southern New Hampshire University
St. John's University - Queens Campus
The College of the Holy Cross
The New England Institute of Art
University of Advancing Technology
University of Massachusetts, Amherst
University of Massachusetts, Boston
University of Massachusetts, Dartmouth
University of New Haven
Wentworth Institute of Technology
Wesleyan University
Wheelock College
Worcester Polytechnic Institute
Worcester State College