Academic Support and Assistance Program (ASAP)
ASAP is a remedial program offered to at-risk freshmen students during the school day. These students have participated in our Summer Bridge Program and attend ASAP to further develop their academic knowledge. This program provides a structured intervention to our students, targeting those who are performing below grade level.
Center for Academic Support and Assistance (CASA)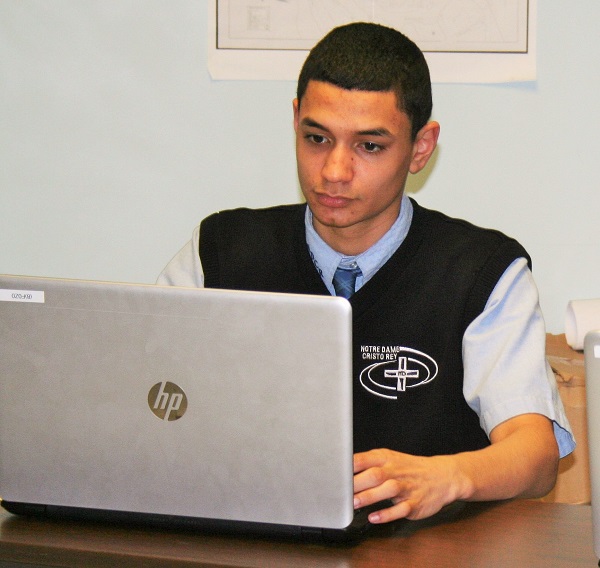 The main focus of our CASA program is to provide all students with a place to complete homework assignments, have access to computers/printers work with peers on group projects and/or obtain assistance with homework/studying. This program is a wonderful opportunity for students to take advantage of the supports available at NDCR.
The aim of the programs is to improve student retention rates and to better prepare our students for a challenging college preparatory curriculum, in tandem with our signature
Corporate Work Study Program
. Together, our two academic support programs enrich and enhance students' high school experience and improve their chances for academic success.
These programs have already proven successful; NDCR has increased our freshman retention rate from 76% to 81%.
Academic Tutoring
In an effort to bolster our students' skills, Notre Dame Cristo Rey High School created an academic support program in which students may obtain extra help in their classes. Students who would like to work with tutors in various subject areas like math, English, or science, are able to utilize daily study halls to do so. Currently, over 15 members of the community volunteer their time on a weekly basis to come in and work with NDCR students. Tutors come from as far away as places like Concord, Ipswich, Wakefield, Melrose, North Andover and Salem, NH as well as Merrimack College.
The tutoring program is run by Mrs. Donna Brine, a teacher with 30+ years of experience in special education. Mrs. Brine works with teachers and tutors to assist students in developing and reinforcing the academic and study skills necessary to successfully complete the college preparatory curriculum. People interested in volunteering their time to tutor any subject should feel free to contact
Donna Brine
.

Peer Tutoring
NDCR students are also enthusiastic to give back to the school. 15-20 students volunteer their time as peer tutors to help their classmates with class material.